Sweet Love Text Messages For Him
Sweet Love Text Messages: You will surely appreciate these wonderful messages to be sent to a husband. This will enlighten you more on the words to use in order to console your husband whenever you have a fight or he is sad due to one matter or the other.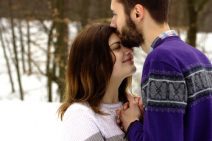 We all are supposed to know how important our partners are to us, especially when it comes to the matters of love. If I may say, I don't think there is any one of us who will like to lose our sweethearts if truly we love them. There are lots of women and men out there whose relationships are no longer working well because they can't implement some special tools to keep it safe. Lots of strategies are available to keep your man wanting more and more of you. One of such strategies is texting of romantic love messages.
I will love it that you should adopt this approach to put an endless smile on your lover's cheeks. Here are text messages for him: 100 Fantastic I Love You Quotes for My Sister, 60 Cute Love Quotes to Tell Your Boyfriend.
Sweet Love Text Messages For Husband
1. Dear husband quite some times, I have been thinking about you for the kind gesture you have always shown to me. Thank you for all your help in my life. I will always appreciate you, my love!
2. Leaving a gem as you will only happen in the month of Sundays. I am the luckiest person for having found you in my life. You gave me all the joy I have always wanted for so long, nothing can separate us, my dear husband, I love you!
3. My love for you only comes naturally without a single doubt. When I say I love you with all my heart, belief me darling that it is just the truth. The father of my children, I wish you can open my heart to see how special you are kept in it. I will continue to love you till the end of time, my hero!
4. Whenever I look into your eyes, I feel the best in my heart. I can't do without loving you because you have become my breath. The prince of my heart, I love you so much and want you to know that nothing will tear us apart, I love you baby!
5. In the neighborhood of love, no amount of money can buy your love. You are so special to me my dear sweetheart. Anytime I think about you, I only fall more and more in love. I don't know how to describe how much you mean to me but I must confess that your thoughts have taken over my heart. I love you, baby!
6. You are the hero of my life, the most beautiful thing that has ever happened in my life. In the time of sadness, you remain my joy, in the time of weakness you remain my strength. Nothing can separate you and me forever. My dear heart robber, I love you!
7. In the retrospect of the love you've shown to me, I realized that there are more values that came along with them than what I thought them to be. You have changed my life for good, you transformed me into a princess full of life and happiness. Dear husband, whenever I think about your kindness in my life, I burst into tears of joy. I am so lucky to find you as a husband. I
love you!
8. This life is like a football pitch, whoever plays the game rightly will surely win the game. For so long, I have been waiting for a special day to meet a special man like you. Thank God, it came to pass that I met a king of love like you. My heart sweetens me because you are part of my life. I love you!
9. These roses are specially presented for you, to appreciate the depth of your love in my heart. You may not know how important you have become in my life but time will tell. Loving you more and more can never bother my heart, not even my soul will ever reject you. I love you, baby!
Love Messages For Him to Smile in the Morning
1. No word can accurately describe how romantic you are to me. Whenever I am calm, silent as though lost in the world, just know that I am only in a world where I find your face everywhere,  smiling at me, telling me the best of lovely words, promising me sincerely to love me forevermore! I love you darling till the end!
2. I have given my heart to you, so you may keep it safe forever. My dear angel, I know you will never fail me. I trusted you when you told me that you will never leave me for any reason.  Here I am today as your wife because you kept your promises. I want to use this opportunity to appreciate your kind gestures in my life and that of my kids. I love you, my amiable hero!
3. If there is any meaning or definition for love that is more accurate in articulation in the realm of mortals, then no other description of love can beat yours which you have shown to me.  Since the day I met you, all my worries have gone. You only did not take me as your wife but as your friend, sister, daughter, baby, and above all your princess. I must confess that I love you!  Baby, I mean I love you so much with passion!
4. No amount of gift can replace your love in my heart, it has become an ocean which found an endless source. Every day by day, your love increases in my heart. I wonder how I can lead this life without you, my husband. I love you!
5. In an abstract world, where none knows what it contains I believe I will find you there. I trust my instinct because you are a special genius full of life and romantic strategies to stir my heart and imagination! My lovely prince, you may not know how wonderful my life has become since I met you, however, I have said the truth. I love you!
6. A flower was growing in a valley of love. No one knows what it represents, yet it was so cute, kind, caring, and loving. When I met you, I found answers to the questions about the mysteries of this flower. The answers are just your style of love! Baby, please I love you with all my heart, stay with me forever!
7. When I was asked, "what is the secret of your happiness?" I answered," my husband!" You are the source of my joy which God has chosen for me. I will be happy if you will continue to love me better and better. I am searching for a life, where everyone will always see the effect of your love for me in my appearance, not only in dresses but also in my whole life itself! I love you, baby!
8. No one can suppress the pressure of my love for you, not even the corniest man can set asunder between us. You are the most interesting man I have ever come across in my life and you will always be. My love, the owner of my dowry, the father of my kids I love you!
9. With the power of love you have given to me, I appreciate you, my amiable husband. Everything about you is cute, sweet and romantic. I want to express my joy to you so you will see the result of your effort in my life. My sweet hubby, you know you are special to me, please manage this bunch of kisses from my sincere heart!
10. In your gentleness, I find so much love. I find a respected man of dignity in you. These are the qualities that keep me attracted to you more and more. You are my he-man the lion of the temple of love! I love you! Have you ever notice the nature of my smile whenever you look at me? It is called the smile mixed with a deep love for my husband!
Love Messages For Husband from Wife
11. My joy, you have set me free from the worries of decades. When I met you, I had doubts that you can't solve my problems because I was living in the past hell. However, you have really proven to me that, men are not the same. You shower me with all the love I have always wanted. I love you, my sweetheart. Have a wonderful bunch of happiness.
12. Sweetheart, I am willing to whisper a word to your ear but that will be when you are back. As for now, I am sending my hugs and kisses to brighten up your day. Lots of flowers are waiting for you, though how they look, will not yet be your concerns. Dear angel, I also cook your delicious food so be guaranteed of a more romantic home today. Less I forget, I want to say I love you!
13. Without you my darling, my heart is empty and starved of joy. Thank God you came into my to bridge the gap between and the past sadness. You are a very wonderful husband. Thank you forever been there for me and my kids. I will always appreciate your efforts in my life. Baby, I love you so much!
14. With the most interesting man in my life, I say bye to my worries. With you my gentleman, I find rest of mind. You do not bully me, shout at me or kick me away. Every woman will live to appreciate a man like you. I love you, my dear baby. Good to have you, my prince!
15. Having been crying for true love for years, then I found you. I found the joy of my life, the reason why I always smile. Your presence gives me active life and a sense of absolutely belonging to a man of love, joy, romance and every good thing of life. Baby, I must confess that I am completely in love with you!
16. I love you dear angel, even the smallest part of my heart testifies to this fact. I need you with all my heart, the most understanding husband in life. I can't count all your kindness in my life because you have completely b math me with them. I am sending you my kisses full of chocolate because I love you!
17. If love is completely practicable, then you have proven it to me. Dear husband, I have one thing for you though it is here in my heart. The problem is that I can't express it with words.
Having reached a level in my life, I surrendered to your unending love. I love you, my baby!
18. I found a special peace in you, my hubby. My heart is for you already so keep it in the safest of places because I am not ready to take it away from you for any reason. I smile, whenever I
realize how romantic you have grown into. My own, the one I'm always proud about. I must tell you that you mean everything to me. I love you!
19. Every day of my life begins with a special part of you and ends with a special part of you. You are always there in my thoughts for all you have done for me. I am happy being with you, for you are the most handsome gentle lovely man I ever set my eyes on. I love you to the core!
10. My handsome prince of love, I hereby declare my feelings for you, you are the most handsome man I ever sighted. You are so cute and yet give me the most handsome treatment. You are a flower of love that never fades. The loving gem of my heart, I must say, I love you!
Love Messages For My Husband
20. Seven days in a week is not enough to express my love for you. 365 days in a year, cannot even dare describe my love for you, my love hubby! Day by day, your love grows bigger and bigger in my heart! I must let you understand, that you mean everything to me, I love you like no end!
21. The kind of love I have for you, money cannot buy. I admire everything about you, you always give me a reason to continue to fall in love with you over and over again. You are so special to me because I have never seen a man so caring like you before! I love you, my sweetheart!
22. I have chosen to be calm every day because whenever I am calm I feel more of your love and passion in me. You have always been the human source of my happiness. I love you with passion, if no one else exists in this life again, as long as I see your face in all paths I follow I will never be bored till the end of time. I love you, my baby!
23. I am living also for you so you will always find your true love beside you. I don't want you to be sad for once because you deserve more than millions of joy and appreciation for the great impact you have in my life. Your joy is mine and your happiness keeps me happy! If there is no one to lean my hands on, I believe that as long as you are living, I will never be put to shame. I love you my heartbeat!
24. Since the day I saw you, My heart became restless hoping for a beautiful day to see you once again. Unfortunately, it took me more days to find you again. Right now, I am assuring you that you have filled the space of love in my heart. If love can be more romantic than usual then it is this your love for me! I love you, my angel!
24. My dear husband, I just thought of a beautiful idea that will always put a smile on your cheeks whenever you remember. Anyway, as usual, I am just sending you an ark full of kisses, romance,
desires, and passions. Please, use them all alone, and spare no one for Mr. Noah!
25. You are the epitome of joy in my life, the sacred impact you fixed in my life continues to bring fortune me. I love you baby, and you need to understand that I do cherish you with all my hearts! Every season is a season of love, but a day with you is a bunch of millions of seasons of love. Baby, you are so sweet, and I love you with all my hearts!
26. I cannot be tired to have more and more of your love. Your love is so sweet, a heartfelt love indeed! Every second's count and every passion grows into a more powerful love. This is my gratitude for you my dear husband, I love you!
27. For all the joy you have brought to me I am sending my appreciation to you. I can't just stop thinking about you, smiling, remembering the memories we've shared together. If love can be more than what it is in the realm of man, then yours is the best for me! I love you my darling!
28. I am the luckiest babe of my time and the reason is that I found a good, wonderful, handsome, caring husband like you. You are the best my heartbeat! Living my life with you gives me more reasons to be happy every day of my life. I must say, sir, I love you!
29. All I need is to see that my husband is happy. I have dedicated my life to serve you well as wife and friend and as the mother of your kids. My lovely angel, I need you to be calm for no one can separate us until the end of time. I love you, my super he-man!
Love Advice For The Husband And Wife
30. If you reflect very well, you will realize that many marriages are not working well because the couples are not taking the right impacts as expected of them! Though it may not be their fault lack of experience or principles of guarding their marriage. Marriage is not an institution for child play rather a realm of serious mature people who share common ideas within.
31. If you must marry, then make sure you are fully ready for it. Been ready for marriage could be that you are good to go financially, physically, morally. You must be ready to understand your partner's needs and needn't as I put it. A couple should respect itself so there will be a flow of love, passion, and peaceful home. Without all this, then it could be a hell living together. A
32. wife and a husband are meant to love each other, for this to be possible then you must be ready to do a lot of sacrifices. You must shun every bad part of your attitudes and turn a good leave so you may live peacefully with your spouse.
If the necessary things are carried out in a marriage, then it will surely be successful. Good Luck and live together peacefully!