How to Start a Text Conversation With a Girl. How to start a text conversation with a girl? Hmm, I encountered a girl on Facebook chat some few minutes ago before the development of this article. She sent me a text "Hello dear, good morin." I kW we don't kW each oda DAT much BT can you do me a favor please?" and then she requested the help she needed. That's how we started our text conversation. A guy can start a text conversation with a girl in a similar way.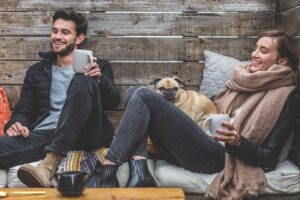 I will reveal many ways you can start a text conversation with a girl via any platform you meet each other. Keep reading this article for more tricks on how to start a text conversation with a girl.
What Are the Things You Ask a Girl to Start a Text Conversation
Starting a text conversation is not different from starting a verbal conversation. All you need is the skill to persuade the second person to get interested in it. However, I will say one or more things that make text conversation different from verbal. For example, we have emojis, stickers, and gif in text conversations.
Say hi to her
Saying hi to a girl is like greeting her good morning, she will be excited to reply to you and to also know what your intention is while you text her hi. As soon as she replied to your text message, you can introduce yourself to her if you haven't met before. If she is comfortable with you, the conversation will go on smoothly.
Ask her about her day
No matter how boring a girl could be, asking her about her day will stimulate her heart to want to engage in a conversation with you. It is natural for humans to expect people to ask them about their well-being so here is a free opportunity from someone offering it. She will definitely discuss her day with you.
Tease her and then praise her beauty
I once had a crush on Facebook, so I went to her inbox, greeted her with hi, she replied, and then I told her how beautiful she is and how she is making me feel. She got blushed and started a conversation with me.
Talk about what she likes
Perhaps you both have been together for a while; you can ask her about her interest. It is not necessary to ask her about her interest, you can as well talk about it. Just start a topic about what she loves doing and then the conversation will start.
I could remember some occasions in a text conversation with my fiancée, as soon as she begins to be very interested in the conversation since it is of her interest; she never wants me to stop. The same thing can occur with your girl or woman, what a person loves doing is worth talking about.
Text her emoji to start a conversation
You can highlight the status of a girl you like and then text her a love emoji. She will be curious to know why you sent her the emoji. If she responds thanks, you can continue with the conversation by texting her, you are so cute. She may say really! You should reply to her 'yes'. Then text her "how you doing"? from there conversation will continue.
Get to know her better
You just met this girl on social media; you can request to know her better. Women tend to be more open than men when they meet you for the first time. There is a female friend of mine, she is so smart and that's one of the reasons I like her.
She once met a crush on Facebook, so they discussed a lot and the guy intends to know more about her, I guess they introduced each other and discussed other things I don't know about. Being that ladies are open, she accepted that the guy should come and pay her a visit. They both had more time to know better. Sometimes, women are not hard to start a conversation with, all you need is the first courage and then everything will be fine.
At this point, let us divert to what comes after you have started the text conversation. Normally, we start a text conversation for a particular reason we are not yet revealing. In the case of this article, I assume your intention is to start a true relationship that will end up in marriage.
Know when to stop the text conversation
Once you noticed in the conversation that she is no longer into it, just stop it. Give her some time to be interested again. You can in fact ignore her for up to a week. She will definitely wake up the conversation if she is already into you. So, there is no need to panic or be impatient to wait for her response.
After the conversation what next
Now that you both have got to know each other through the text conversation what next? You can request her phone number. If she agrees to give you, that's a good step up. Should you call her immediately? I will rather say don't call her immediately and don't allow the call to stay too long. If you don't want her interest to die in you, keep doing text conversation with her; ensure she is getting more interested in you to save time before calling her.
She will actually expect your call, but delay the call for up to 3 days and then give her that special call she has been waiting for. Just like I said above, ensure you are still in a text conversation with her.
What next after the call
You can arrange how you can meet her. Some ladies will like that you come over while others may agree to come over to see you. I like the former, they are smarter. If I were a girl, you have to come and see me. I will not see you until I am satisfied with the kind of person you are in and out. Have you heard about the Facebook love that happened some months ago in Nigeria? A girl met a guy on Facebook chat, and then, after a few chats, she decided to see the girl. She was raped and murdered by the same guy. You have to play safe as a girl.
As soon as you meet
Get to further know each other for a better understanding of each other. The guy should then either tell her his intention or still wait for some time before telling her his real intention. I believe some people may argue that the proposal shouldn't be delayed any longer.
Women are not like that, you have to play enough suspense to get them along with you. Revealing your intention too early may break her interest flow for you, be hard to get kind of guy but not too hard to get.
Tell her your intention
I don't know what your actual intention is but it is time to let her know. She mustn't over expect your intention because if that happens, she may activate your status in the friend's zone, and if that happens, it may be difficult to change her new view about you. Don't over delay your intention, tell her and she will respond appropriately.
The texts can continue
Now that you have gotten to know each other, exchanged numbers, and also proposed your intention. Let assume you said you love her and she accepted and decided to date you, then conversation both verbal and text can continue. Here are the topics you can discuss as you share a moment with her either online or offline.
Have you ever experienced a near-death situation?
There must be a time in your life in which you thought you will be dead. It could be that you escape an accident or you got very sick and then survive. Such an experience will be hard to erase from your memory. If anyone asks you about it, there will be no difficulty giving a vivid explanation of what really happened that day. This is not happening to you alone, even your girl must have experienced a similar situation, and so, this will be a very interesting topic to discuss.
Have you ever found something weird attractive about a person?
You will be shocked about what people of this day admire. You want to know if I am saying the truth. Ask your girlfriend what weird thing she finds attractive about a person and you will hear a lot of stories. It could be the way a person smiles, walks, or even talk. Ladies are just unique in their ways, what you never expected they love is what they love. Some ladies can tell you that they love a person just because he or she has a big stomach. Inside life!
What is the best thing that you achieved today?
Wow, this question is a good target for a long conversation if you are lucky enough. She will be glad to tell you the best thing she achieved today. After all, that thing is very important to her and now, a person has offered to listen to her story, definitely, she will be excited to tell it.
What would you do with 10m dollars?
This question can spring up many other conversations. Imagine if someone gave you such a huge amount of money and asks you what you would do with it. Definitely, you may be short of words in the first place but after a few minutes of thought about it, you may come up with a lot of things you can do with it and why you deserve it.
How do you normally do your assignment back then in high school?
After high school activities may have a common interest with what we experienced in our high school days. This creates a way to make connections outside the school.
Do you have a favorite place you enjoy yourself?
This will help you know her favorite place where she eats, so you can suggest that you go there together. She will gladly accept and will love to spend some time with you there.
What new thing have you tried recently?
If you don't ask your girlfriend about some things, you may not get to know about them. She may have something interesting to share with you about what you tried recently and from there, you may learn new things too. Maybe she went swimming, that is an indication that she loves swimming. Pay attention to her mood while she is talking about what she tried.
Can you fly an airplane?
You can put a challenge with your girl to know if she can fly a plane. If she can't you both can decide to go learn how to fly an airplane if there is such training ground for none pilot students. This is a romantic way to start. Having common hobbies will further aid in strengthening your bonds.
What is your major challenge of being a woman?
We all know that being a woman is a great challenge especially in a society that supports treating them as second-class citizens.
Your girlfriend may have something to say about her challenge of being a woman. The challenge some girls face as a female could be in the family where their younger brothers show little or no respect towards them all because they feel they are stronger physically than she is.
If that's the case of your girlfriend, you can suggest how she can politely make them respect her. Leadership doesn't enforce violence to win peoples' respect for you.
Is there any poem you know by heart?
This day, people prefer songs to write and memorizing poems. If you eventually have a girlfriend that has an interest in poems just as you do, you can ask her about any poem she knows by heart.  When two people sing a poem together, especially when it involves romantic content strengthens their passion for each other.
What do you like about me since we met?
I mentioned somewhere above that women are unique that you will be shocked about what makes them fall in love with somebody. There must be one special quality you have which makes your girl loves you. It could be the way you treat her special, your kindness, your smile, and many other things you didn't even ever think about. That's the life of women for you. You never can tell what they like about you so, asking them about it is a good idea also.
Conclusion
Starting a text conversation shouldn't be hard for you to carry out with a girl you like. It all starts with the magic word "Hi" or "Hello" and the conversation begins. You need to know when to stop the conversation and what you must not ask or say during the conversation. From text conversation, you can both began to know each other better and then reveal your intentions for each other.