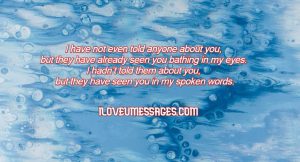 Birthday Greetings Sayings: These messages can be sent to your beloved woman or man during their birthdays. Sometimes, you can text these messages to those you love not necessarily on birthdays.
1. She is one, the one I told you about. She is that light in my heart, that star I told you about. She is the woman that makes me behave like a drunkard.
2. I have not even told anyone about you, but they have already seen you bathing in my eyes. I hadn't told them about you, but they have seen you in my spoken words.
3. The perfume of love cannot be concealed from the public. It moves from the region of lower concentration to the region of higher concentration.
4. Love is a vapor that doesn't vanish into the thin air. It rather stays trapped in my heart. Love cannot be concealed, it manifests in the eyes of the lover.
5. I couldn't fall silent because my love for you is beyond words. I couldn't keep quiet because love cannot be hidden.
6. You left my sight and penetrated into my thought, and left my eyes, traveled to my heart to dwell forever.
7. Her love in my heart, strong as a mountain, gorgeous as pigeon, and peaceful as a dove.
8. None before, none after, you are the first woman in my heart, and the last angel in my dreams.
9. My lover wanted to know the difference between her and the stars, I replied, whenever I see her, I smile and forget about the stars.
10. You might grow old soonest, but you will remain young on my pages. You are already in my poems.
11. O beloved, you are plus one today, why not come to me so I can hug you with the burning passion in me?
12. It doesn't matter what makes me smile, what really matters to me is that because of your smile, I become tougher, because of your passion, I have become jealous.
13. In the realm of love, I identify you as the essence of my happiness, in the realm of love, I see you as the pearl of passion.
14. I have lost my senses because I fell in love with you. Instead of me remaining until I can see again, I still prefer to be blind in love with you.
15. The shackle of your love has imprisoned my heart. I wonder how I can find myself again. I have disappeared in myself. I have lost in love with you.
16. In the brim of love, my heart cries out for your love. Your love bacon my soul, gives me hope to stay strong no matter what.
17. My heart is boosting in your passion, wailing in your love. I cannot think straight anymore because I am in deep love with you.
18. The flow of love never ends, it keeps moving after death. A lover can wait until he finally meets the one meant for him.
19. I have been affected by the madness of love. Come to me, I will heal you of the burdens in your heart. I will stay with you in difficulties and pain.
20. Even now, I am a stranger to myself. I don't know where I am anymore because my heart is completely engulfed with your love.
Best Trends of the Day
21. O, my beloved! It is true that a lover does not have a choice, a lover loves and sacrifices for the one that lives in his heart.
22. Being drunk in love is strange but that is only possible with a man that deserves true love. I may not be strong enough to resist the charm of your love but you are always there.
23. There is a spot of your love in the innermost part of my heart. I tried to come close to you so that I can see the flower of my life.
24. I am your love garden, you can pluck as many flowers as you like because I belong to you.
25. Could this be that I am going insane because the water of your love is boiling in my heart? Your affection touches my heart with tenderness.
26. I love the feeling of your hand when you touch me, even right now, I can no longer recognize myself because your love has occupied my brain.
27. I became a friend to an enemy, an enemy to a friend all because I fell in love with you. No one could convince me that I have to take your matter lightly with people.
28. Your beauty is too powerful that it penetrates through my soul and cuts off my sense of understanding my own self.
29. I am insane today because of the beauty of your creation. Your elegant body blows my heart to the extent that I cannot recognize my home anymore.
30. I am coming to you not to live with you but to die for you. You said, no, I have to live with you so that we can die together.
31. In light of my love for you, I became a drunkard in love. In the madness of my –passion for you, people think I have lost my sense of reasoning.
32. I believe that one day, I shall own you for myself alone. I shall be the woman that will take care of you as you deserve.
33. Come to me, come close to your lover that has been dying to see your face. Although, several times you have kissed me I have not seen you.
34. You are the paradise I was promised, you are the glad tiding that has been appearing in my dreams all this while.
35. What is this agony in my heart? It pierces and tears my soul with passion. What will become of my life without you?
36. You have stabbed my soul with your love and now my heart bleeds the passion for you alone. You are my princess, the only light I see and will be ready to merge with.
37. Come and form a holy communion with me so that the sacred Hand of God with merging us together forever.
38. You may be brackish water and I may be salty water, it doesn't matter. Come to me and let's mix our souls together.
39. In the valley of my love for you, I became a walker who wishes to walk to the extreme of love. I want to walk through the shadow of love.
40. Your love forms a peaceful shade around me. It brings tranquility to my heart and embraces my soul with its comfort.
41. My soul is screaming in ecstasy because every part of me is longing to see your face. My heart is a sacred place for you to dwell.
42. The cavalry of love in my heart is more sacred than any other troop on the surface of this earth. My heart shall fight for you until the end of time.
43. I offer my salutation to all that belongs to you; I offer my salutation to the beauty that arouses me, soul. I offer a sincere salutation to the woman of my life.
44. You are the agony of love that is unsettled in my heart; until I see your face again, my worries will wash away.
45. My soul, my heart, myself may tear apart due to the excess heat of your love. Please, come to my rescue; protect my heart from being crumbled into pieces.
46. Because of your love for me; I became a mad man. Because of your love for me, I lost myself. Because of your love for me, I made a difference.
47. Just like a screaming frog, my heart is about to scream out of my body to remind you that you are my love garden.
48. In a paradise on heart, only you, I see before me. in the comfort of passion, you are the only flower that flows in the air.
49. You are the sky in my heart. You are the blue moon that lights up my soul when in darkness. You are the most beloved treasure that makes me run mad in love with you.
50. It baffles me that the fire of your love is burning in my heart. It baffles me that I cannot quench the flame of your passion in me.
51. You are a natural product that brings peace to my heart. Your soft touch arouses my love for you.
52. The softness of your lips arouses my desire for you. I feel like to possess every bit of you in my heart.
53. You are the treasure that lives in my heart. You are the divine joy sent to me, you wiped away my sorrow, gave me love.
54. Only a lover can see the true color of the loved one. In the madness of my love for you, I became so calm and easy-going.
55. Even light cannot erase the shadow of your love from my heart. I am lost in the ocean of your love; I hope I will find my way back home.
56. You have a beauty tapped from a source from the east. You are as tall as a mountain from West Africa.
57. You are the queen from an Africa village, a gorgeous black tree, full of light, shining like the sun rising from the East.
58. I love you unconditionally, respect you preciously, and adore you more than the food I eat. The fire of my love for you cannot be quenched.
59. I realized that if I wrote your name on the wind; the wind is a bad listener if I wrote it on the water; the water does not remember names, but if I kept it in my memory, it will be there forever.
60. Your eyes are as beautiful as the rainy night; I am sinking in your love like a swimmer at the river bank, so safe and hearty.
Trends of the Day for All
61. The glimmer of my love words reminds me of the beauty of your smile. I feel like kissing your lips though they are not yet mine.
62. You have already kissed me even though we are yet to see. You have touched my heart, though I am yet to see your majestic face.
63. Through the power of love, thorns become flowers in my eyes. Through the passion of your love, night becomes morning to me.
64. When the wound I have in my heart is tired of crying, it will begin to sing. You are my wound, I am the laughter.
65. When I was drowning, you became my air. In the winter, you became my blanket. In the sun, you became my shade.
66. There is a big portion of you in my heart. Day and night, seconds in minutes, minutes in hours, I think of you.
67. Love is lost between things we didn't say but do or what we didn't do but say. I am sorry because you are my happiness.
68. I have seen many eyes but yours consumed my heart and left it left me marveled about your excess beauty.
69. I may not be able to decide whether I love you or not, but I want you to know that if you love me back, it will be my happiness.
70. The people that are meant to be are like magnets, no matter how the North Pole is diverted from the South Pole, they will suddenly jump on each other, embracing.
71. Your love nests in the chambers of my heart. This love entwines us together, giving us a sense of security for each other.
72. The kind of love I have for you exudes from my pores. What kind of love is this? I am lost in your eyes because they are too beautiful.
73. The worst pain in love is when you don't know whether to wait or to forget. Waiting for someone you love may be painful, forgetting them may be hard, but doing the right thing cannot be overemphasized.
74. O my beloved, your beauty pieced through the chambers of my heart. Your face is the light that I have been searching for.
75. You are the air of my life; I will not get tired of taking you into my lungs. You are the most beautiful queen in my life.
76. I bath my whole body with fragrance but you are yet to smell it.
77. You have the choice to choose between two conditions. You can choose to die on my chest or die on the pages of my poetry.
78. Someday, you will ask me which is more important to me, I will say mine and you will walk away not realizing you are my life.
79. In the essence of your love, I see the peace of my heart. In the light of your love, I see success right before me.
80. I hadn't told my mom about you but she has seen everything about you from the screen of my eyes.
Here are some classical poems that were written in form of text messages for everyone who wishes to use them either for a project or as love messages for their loved ones.